Name:
Iris
Gender:
Female
Strength:
Running, hunting, caring for little ones human or wolf
Weakness:
Swimming, hunting in a pack
Pelt Color:
A greyish color not too white not to dark, has a zigzag look in a few darker shades all over, or zigzag in a light shade.
Markings:
None that's distinct
Eye color:
A iris purple like the flower, how she got her name
Personality:
Iris is a loner and as is goes for most loners tends to be by herself, though she does tend to be by herself she has a mothering side and will take care of young of the same species the wolf or sometimes take to a human young.
Other:
Lives near a city, and has no pack
Picture(s):
Below
Human or Wolf:
Wolf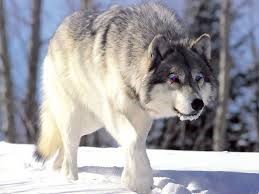 I stood there frozen, my legs numbed as i stared into the shadows with wide frightened eyes. There they stood with glowing eyes among the trees shadows.  I heard one low grow, a warning that i better run? I don't think i'll find out now. They emerged one by one each ones muscle rippling like waves of the ocean. I stared in aww as they each emerged, i couldn't explain too you how beautiful they looked but also how deadly, i knew then that i was standing in the presence of a pack of wolves.