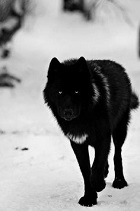 Name: Shadow
Gender: Male
Strength: Shadow is a really great fighter, and doesn't hesitate to fight someone if they are threatening him or harming a loved one. 
Weakness: Hunting, Shadow could hunt but he isn't the best at it, he has had some successful hunts and other not so successful
Pelt Color: Shadow's pelt color is a dark sleek black, he has white patch on his chest and a white patch on his left shoulder. His fur texture is a silky and soft color
Markings: Just white patches here and there
Eye color: Dark pale yellow orbs
Personality: Shadow is a very funny and sarcastic wolf he is very talkative and very social. He could be very caring for his family and loved ones such as pack. He is very loyal towards his pack, he will protect them till his dying breath. He can be a very angry and furious wolf if you push him to his limits.
Other: He is a lone wolf
Human or Wolf: Wolf