Name: Kihyah Arcane
Age: 3.25 (dog years)
Gender: Male
Strength(s): Abandoned by his parents at an early age made him a Jack of all Trades and has mastered all of them. He also is an information highway, holding tons of knowledge that he share's with others.
Weakness: Poor eyesight which he hides well
Pelt color: Silver
Markings: A touch of black
Eye color: Silver
Personality: Reserved and wise his personality that of an Elder. Giving advice as nice and polite as he can given any situation. He also tries to give a helping paw in anything, be it building a den or just a question that he knows the answer to. Never wanting a fight he'll try to find other means of calming a situation down, but if push comes to shove he won't hesitate to fight off an attacker.
Other (wolf's history): His parents abandoned him to the world at a very young age, being very young and innocent he became friends with a lot of terrible wolves. Otherwise over looked he is marked with several scars baring the stories of his past. Large scars up his left fore stopping before his joint, the most noticed was the one that marked his face. Tracing from his forehead down across his eye, down his left cheek stopping at the left corner of his lips. Grown up and having learned his lesson's well and hard in life gave him a worn look. Though quite young in appearance his eyes held a certain maturity about them that revealed the world through them. Having been a lone wolf he had also run across many females, all of them had just used him and had hurt him in the end. His heart nothing but a mess when Mystery had found him. They had gotten to talking and playing with one another, running around and chasing each other...he started opening up to her in a way he never had before with anyone else. He gave his heart to her for it forever belongs with her.
Picture(s):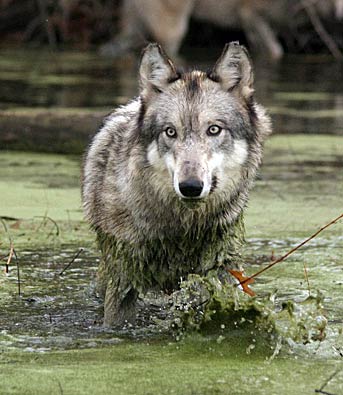 When Kihyah and Mystery met...
Human or wolf: Wolf