Name:Kodak
Gender: Male pup
Strength: Outspoken, excellent eyesight. Still growing up but later in life will become nimble due to inheriting his mothers muscle structure making him look lean in build and a very skilled hunter.
Weakness: Too curious for his own good as he is just a pup currently. Later in life it is discovered that he distinguishes scents very poorly leaving him to rely heavily on his eyesight.
Pelt color: Timber wolf
Markings: Same black striping down back as his father
Eye color: Silver, later in life developing specks of jade so that when looking a certain way his eyes can appear to be either emerald or gray in appearance.
Personality: Kodak loves to have fun, especially enjoys rough housing with his sisters. With there being more girls then boys he tends to act out more because of the difference...he is a growing pup so his personality will grow with him.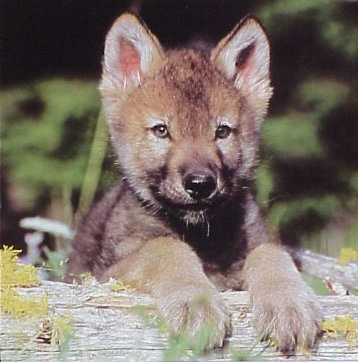 Family: Father~ Kihyah, Mother~ Mystery
Sisters~Eclipse,Psyche
Human or Wolf:Wolf pup